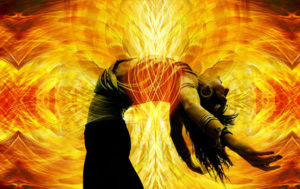 In my efforts to try and blog more often, I am posting this piece of writing that I wrote quite sometime ago. A wisdom regarding death, loss and grief of the self as I change and grow, lead me to write this. This year, I have encountered the loss of not only loved ones that mean a lot to me, but I have too lost pieces of myself. Whether we loose a piece of ourselves that we are happy to see go or we outgrow a piece of our character that we hold dear to us, the loss of such is no less painful…
I'm dying inside. Sheeding old skin that is damaging to me. Waiting on my Phoenix rise moment which will be coming soon. I used to go through this alot prior to my days at Pratt. It's part spiritual awakening part emotional funeral. Learning how to allow faith to really work in my life by being aware of my feelings but not acting on it. In the past I'd try to fix it or change it. Now, I'm waiting for my Creators to be in control. It's not my show, this life, I'm just a part of the audience really. So that's where I'm at. I don't want to talk much. Just lots of crying and creating art.
People don't realize you live and die a thousand times while you're still alive; that's precisely, I believe, what the resurrection was/is trying to teach us, in our waking life. Your life and sins and free will as a human will cause you to face judgement of self. Your forward procession of leaning in towards the pain causes death or crucification. When you let go of that part of your humanity and accept the love that the Divines want to shower you with, you become reborn/resurrected.
I have the spiritual and intellectual aspects of this understood. But it doesn't forgo the internal grief that I'm going through. That's how it works. I see when it comes to God/Goddess it's not always roses and sunshine. Some stuff is going to be painful and tearful…but I'm learning to lean into the pain, that's where the growth comes…no baby is born without pain and tears…I'm blessed.