Who Is Cashel Campbell?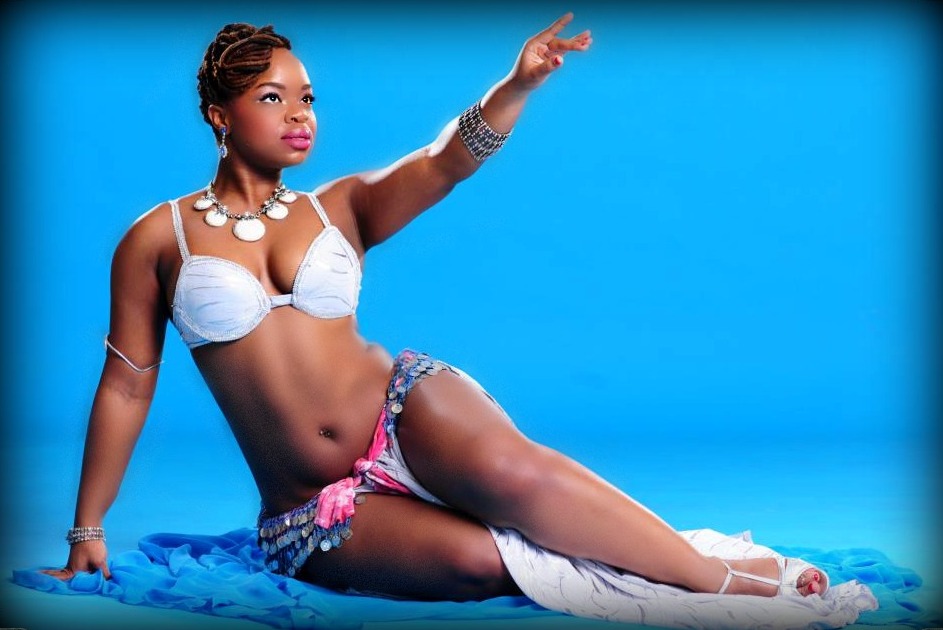 Cashel Campbell has been earnestly working as a performer since the tender age of three. Born and raised in Long Island, New York, she has actively been a part of what it means to be an actor and a dancer. She began her dance studies at Dickerson Dance School in the mid-eighties, and has gone on to train at some the most renown dance studios in New York such as Embora Dance Studio, Jamaica Center for Arts and Learning, Nassau Dance and Steps on Broadway. Whether participating in her former high school's annual intramural night or worldwide/local talent competitions and showcases, she has always enjoyed the excitement and spontaneity that happens when you fuse emotion, character, movement and audience together.
Cashel has held many positions as a freelance artist. She is and has always been keenly aware that it takes several tasks to create revenue when you work as an independent. Some of her jobs have included being an Art model, food demonstrator, vintage clothing vendor (EBAY and throughout New York City), secret shopper, personal assistant at The Center for The Restoration of Ma'at to name a few.
She broke into the entertainment industry with her first national commercial for Curad Band-Aid in 1988, entitled "It Don't Hurt No More", which in turn became a huge success. Several other national commercial spots followed, including ads for Burger King, The United Negro College Fund, Shark Bites, MasterCard, PSA's and print ads as well.  One of her most memorable acting credits includes acting alongside Loretta Divine in George C. Wolfe's TV adaptation of "The Colored Museum", which aired on PBS.   Attaining her membership to the Screen Actors Guild in 1987, Cashel Campbell has had the privilege of working with some of the industry's leading actors/stars such as Bruce Springsteen, Paul Newman, Joanne Woodard and Wes Craven. Although acting is a field she conscientiously pursues, dance has always been her undeniable passion. It is for this reason she has also been dedicated to the art of Belly dance for the past several years.
Through her wide network of colleagues, friends and family, Cashel has become a fan favorite for several novelty events across the country. Beginning in 2009 she has performed for birthday parties, anniversaries, charity functions and cultural events, taking place at venues such as Clippers (Queens, NY), African Poetry Theater (Queens, NY), and various birthday parties and celebrations.
Cashel Campbell has delved into the rich history and empowerment of this mystical dance, while learning its technique from the arts' most renown. She has had the pleasure of taking classes with the incomparable Arianna Al Tiye at Mark Morris Dance Studio and has as well taken classes and workshops with some of the best Belly Dance performer/instructors in the world, including Alanah, Allisyn "Oya" Swift, Djhari Clarke of Desert Sin Dance Company, Dr. Sunyatta Amen, Elisheva of Bellyqueen, Hanan, The dearly departed Jeniviva, Lilirosa or IslandRaqs, Ranya Renee, and Shoshanna. In 2008, she starred in the Off Broadway production Musée Des Femmes:  Tales of the Grotesque and Arabesque (Desert Sin), and received stellar reviews for her masked portrayal of the Goddess Kali. Also that year, she was also interviewed by New York Linkz Television, a worldwide Carib-American news, arts and entertainment network, on the beauty and art of Belly Dance (minute mark 3:22-7:06 http://www.youtube.com/watch?v=dR5EH76MMGo). Being able to share her talents with her community was something that was her primary goal when beginning to teach dance. One of the first set of classes she taught was in 2009 at the Baldwin Public Library. The community and public response was so positive that she was asked to return and has since been invited to teach at several other libraries and not for profit organizations locations such as: Amityville Public Library, Art Start.
From 2005 – 2009, Cashel was a spokes model for All State Promotions, the exclusive branding company for the infamous liquor brand, Jägermeister. As a spokes model, she represented the brand at the best bar, lounges and restaurants, as well as charity/celebrity events. Some of the most memorable events she was specially asked to be a part of were: Complex Magazine's 77 Klash, Red Bull Space, New York, NY http://luluscosmetic.blogspot.com/2008/09/77-klash-album-release-party.html , 2009 BCA Global Food and Wine Experience, Tavern on the Green, New York, NY, Joe Deguardia's Star Boxing Presents: VIP Boxing II, Russo's On The Bay, Howard Beach, NY and the 5th Annual A Fashionable Taste of New York, New York, NY.  She was also a spokesmodel for the marketing companies GMR marketing.
In 2007 Cashel displayed her Belly Dance Talents to a surprised audience while on vacation in Jamaica at Grand Lido Bracco Resorts' guest talent show. Several of the staff were in awe especially having never seen a Belly Dancer with brown skin and locked hair!
In 2008, she was a part of NYU's student director Lee J's film entitled STILL.
In 2009 she offered an individual Belly dance session on part of a charity event (SupportEric.com).  She was also cast as a model on Bravo's "The Fashion Show" (http://www.bravotv.com/the-fashion-show/episode-5-rate-the-look#image-39450). Later that year, she premiered a Belly/Latin inspired fusion piece in Madame Leon's Holiday Hafla at New York's own Slipper Room, and as a result she was featured in Girls (http://www.mariaguido.com/), a photo exhibit in Williamsburg, New York by the celebrated photographer Maria Guido.
In January 2010, she danced for Bastet's Belly Dance for Change: Dance for Haiti at the world famous Lafayette Grill. Headlining twice in 2010, she had the pleasure in starring as the feature dancer for the well know Jerry Bezdikian's  "La Nuit des Nubien" '(http://www.youtube.com/watch?v=fMDHxdzn_WA&feature=relmfu) , at the illustrious Sullivan Room in Greenwich Village.  Also in 2010, she was cordially invited to dance for The St. Kitts and Nevis Independence Gala in Atlanta, Georgia, as well as for the Atlantis Cricket Club's Annual Awards Ceremony in New York City. She also was the lead Belly Dance instructor at Lucille Roberts Rockville Center from 2010 to 2011.
"The Wedding" a stage play that she had the pleasure of being a apart of in February 2011, she played a wedding guest and was also one of the two dancers who closed the show to a liturgical dance piece, choreographed by Estena Turner.  The show as created by Beverly Morrison Caesar and was performed at the York Performance Arts Center. Dancing to Mos Def's Umi Says, she dedicated a belly dance piece to the late DJ Meta-Physic at Queens' own Afrikan Poetry Theater in June 2011.
She had the honor of being the only Burlesque performer in a cast of modern and contemporary dancers at the Bronx Academy of Art and Dance (BAAD) for 3 sold out shows, twice in 2012 and once in 2013. In 2013 she also was the guest performer for the Atlantis Cricket Clubs's Annual Fundraiser in Brooklyn, NY.
More recently, her acting and dancing credits include hosting (in conjunction with Long Islands own Body, Mind and Pole) and teaching a series of Sensual Belly Dance workshops at Personal 1 Fitness in Mineola, NY.) She also performed in their first student showcase, doing a Belly Dance and her very first Pole Dance performance and both were a hit!  In May 2014 she also closed a packed house performing her fan favorite burlesque piece "Summertime" at Harvey's Comedy and Burlesque Revue. In May 2014 and July 2014 she facilitated, taught and guided students toward an inner exploration of themselves through her self-made Yoni Belly Dance classes and meditation.  In July 2014 she had the pleasure of teaching Belly Dance for Seniors at Long Beach's JASA senior facility. She also opened the show at IslandRaqs summer hafla in New Hyde Park NY.  In August 2014, she closed a stellar show as Meana Maneater in Kissed PR's Bushwick Variety Show. Her talents made her a person of interest to be interviewed on In The Loop Radio's online radio show in October 2014. This appearance was followed by being apart of an awesome burlesque cast in The Incredible, Ediblie Akynos' "THICK" at the Wow Café Theater in November as well as a colorful Belly dance performance at The Expressive Arts Therapy Summit in New York City and The New School.
Her other credits include a Texas tour with the acclaimed Punany Poets (Poet, Burlesque Performer,BellyDancer, http://www.youtube.com/watch?v=vbBzzVlIHKI&feature=player_embedded http://www.youtube.com/watch?v=qNG8RYWo9No&feature=youtu.be), The MuseIam at The Muse in Williamsburg (Belly Dance performance), The BAAD!ASS Women Festival (Burlesque performance), The Coil Review Commercial (Actress, http://www.youtube.com/watch?v=AsRt22zMmr8 ) http://www.youtube.com/watch?hl=en&gl=US&client=mv-google&v=AsRt22zMmr8&nomobile=1 , The Blue Note (Belly Dancer, http://www.youtube.com/watch?v=WDSSeb8IiUc), Mental Notes Xsperimental (Belly Dancer) at The Shrine Auditorium , Mental Notes Event (Belly Dancer) at Lincoln Park Tavern, The Pan-Afrikan Day of Solidarity (Belly Dancer) in Baltimore, MD, Jerry Bezdikian Presents: La Nuit Des Nubiens – Odyssey West Africa, Starring: Cashel Campbell (Principal Belly Dancer) at  Kamasutra Lounge, I Love My Fro's "Respect The Kink!" Meetup (Belly Dancer) at The Audubon Ballroom (http://www.youtube.com/watch?v=_ysvkKkJUYA), an interview with John Crow on QPTV's Caribbean Classroom (http://www.ustream.tv/recorded/15857298), PanJazz 2011: Tales From The Silk Cotton Tree-Hugh Masakela (Principal Dancer, http://www.youtube.com/watch?v=nTehgy4qOm8&feature=related) at Jazz at Lincoln Center, photo shoot with the world renowned Lucien Clergue, Kanydman's music video Dance with Me ( Belly Dancer/Lead Model, http://www.youtube.com/watch?v=nh6eyoNzMPM), The Nassau County Guardians Association & The Nassau County Legislator Robert Troiano Present: Black History Month! (Belly Dancer) at Malverne Public Library and The Wedding – A Pantomime, directed by Beverly Morrison Caesar at York Performing Arts Center (Principal dancer/Actress).  Cashel Campbell is not only a Belly dance maven, but a rising theatrical star in the making!
Cashel Campbell is currently working towards receiving her Master's degree in Dance Movement Therapy at Pratt Institute.  While she has been pursuing her career as a performer, she has also had the pleasure of interning as a Dance/Movement Therapy intern. Her experiences as an intern have led her to work with a variety of clients. In March 2014, as an assistant to her Dance/Movement Therapy supervisor Lisa Wiesel, BC-DMT LCAT, she assisted in the choreography, physical facilitation and group support and development of a ballet class for performance with children stricken with bells palsy and cystic fibrosis. Her future plans include continuing her career as an actor, as well as cultivating dance as an instrument toward healing, expression and self elevation.  She hosts community workshops, inspired and geared toward feminine empowerment and performs for various organizations, charities and private functions.   She wholeheartedly enjoys the essence and divinity of being an artist, and looks forward to a promising future as a healing therapist and performer.